LBP 34 $795.00 base price includes roll top mode with large rear covered Kangaroo Pocket, 2 large removable water bottle pockets, top pocket basic hip-pack (brain), single and double roll-top systems, extendable upper Bayonet stays, and twin lower adjustable stays of 7075-T6 aluminum. $725.00 for pack minus top pocket and extended upper bayonet frame. For LBPs made of 100% full spectra: $1,749.00 (does not include accessories) To Add a Full Spectra bottom only, add $75.00 - Base price includes all Spectra 'Grid' fabrics.
Top Load / Panel Loader style LBPs; Add $89.00 for zipper.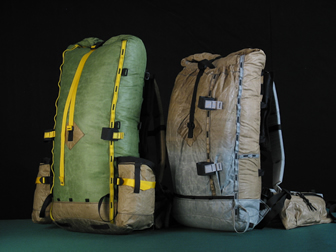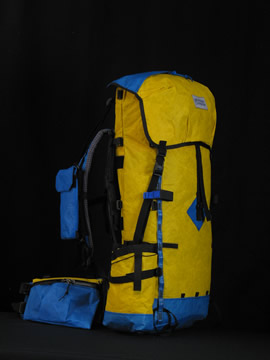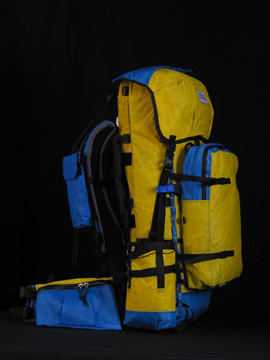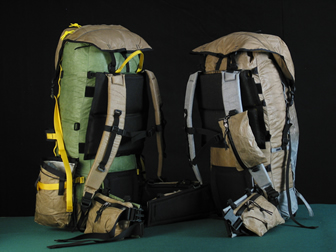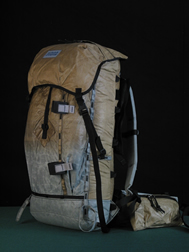 This brown Full Dyneema LBP 34 weighs just 2 lbs, 5 oz stripped of it's accessories but still with the Kangaroo Pocket, twin 7075-T6 stays, and comfortable back pad/vent . It has a volume of 3,000+ cuin. including the Kangaroo and carries 30 lbs easily off the shoulders.
Below, stripped photos of yellow Hybrid Cuben Fiber LBP 34 P&G pack at upper right above. This pack ranges in weight from the heaviest photo 3 lbs, 12.4 ozs to the final stripped photo of 2 lbs, 10.4 ozs. In the final yellow LBP 34 photo below the pack still has a substantial twin-stay frame, 1/2 " thick foam and mesh backpad, and hipbelt with more surface area than most UL packs. It also has a Full Spectra Bottom and daisy chain.