LBP 38 - 3,200 cubic inches ( page under construction )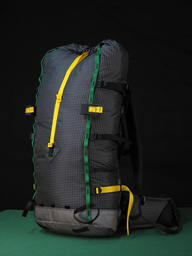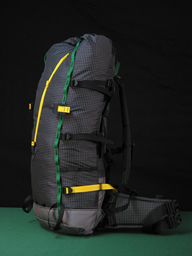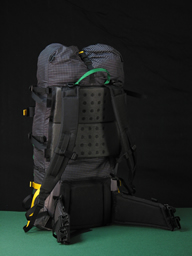 $895.00 / $795.00 without P&G frame extensions. Base price includes a large rear Kangaroo Pocket, 2 large removable water bottle pockets, top pocket hip-pack (brain), single and double roll-top systems, Full Spectra bottom and lower sides, and twin lower adjustable stays of 7075-T6 aluminum.
........ LBPs made completely of Full Spectra: $1,749.00 (does not include accessories). Add $95.00 for P&G frame extensions. Add $75.00 for Full Spectra Kangaroo or shoulder pads on non-full spectra LBPs. Base price includes all regular fabrics and Spectra 'Grid' fabrics.
Top Load / Panel Loader style LBPs; Add $89.00 to base price for zipper.
Below: A dyed (treated) white Full Spectra LBP 38 .