Tips for keeping your pack alive. These tips are useful for any brand of pack.
1) The most damage that I see that occurs to packs is caused by animals eating them for the salt. I have seen entire harnesses eaten off packs. Keep your pack with you.
If you leave your pack out - even if you cover it - leave all of the zippers and compartments open and make it easy for the little critters to see there is nothing in there and they won't eat the zipper just to get through it - that's where the odors pass through. A few little turds are better than a pack in the repair shop. A deer walked off with my keys at Ross Lake once! That was after I chased it after after it grabbed a salty T-Shirt! Wash your pack once in awhile - don't be gross - when your pack feels slimy it really is. Plain water is enough in a tub is far better than nothing....dish soap helps a lot. Hang it out on a hot day to dry or in a warm house. Slow drying allows mildew to form. Leave the frames in packs when you wash them because the packs shrink..../the frame won't !!!!
2) Theft may rank #2 so be careful! Whole carloads of stuff get stolen. DO NOT leave things exposed in cars unless you will not take your eyes off for a second. Do not leave things in cars period unless you live in a gated community! If you are on vacation rent a storage unit somewhere so you don't leave a carload of gear at a trailhead.
3) Damage to foam from leaving packs exposed in hot cars in the Spring and Summer is next in line. The one that surprises people the most is the foam shrinkage from excessive heat in cars. Cover packs so that they are insulated. This can happen to most major brands. Don't leave packs next to heater ducts in homes or in cars.
4 ) Some get burned in house fires! This is rare. You will know when it happens.
5 ) Fabric coatings and laminations - fabric vendors do not guaratee for life the integrity of fabric coatings. Since the vendors and manufacturers see coatings and laminations as having a limited lifespan, then we have to also. The good news of coatings peeling is the fabric strength usually increases - and rain covers are generally needed anyway. Many things affect the life of coatings just as environmental factors affect foam. Moisture, mold, excessive heat, and chemical contamination do not help. Store packs longterm in ventilated areas and take care of them like anything valuable. The garage in places like the Northwest is not optimum.
Recoating Packs......and sealing seams
Tent Sure recoating urethane:
They are many older packs on the used backpack market. One major turnoff to old packs, though, are the failed urethane coatings. Don't despair, get Tent Sure. The local company McNett makes this and many other useful products Like Seam Grip. Most gear shops sell it, or it can be purchased from fabric stores like Seattle Fabrics. I'm thinking of stocking up myself so I can ship it with repairs and etc. Tent Sure easily recoats pack and dries pretty fast. But, the directions on the bottle say to shake well. You must stir it well instead because it thickens so much at the bottom while it sits around in stores that shaking cannot mix it. The bottom layer needs to be dug up and stirred, and then you can shake all you want.
The pack in this photo below is a 15 year old McHale Pack that is like new again. Although it is called Tent Sure, in fine print at the base of the bottle it says Coated Fabrics. Every time I use this product I have great luck. Just turn the pack inside out, stuff it full and paint one panel at a time with the foam brush that comes with it. Don't stuff with valuable items since the urethane soaks through when the old coating is completely gone. 2 coats may be need for far gone packs or cordura fabrics. If some of the old coating is still there it becomes reassimilated - it's cool stuff. For climates like here in the Pacific NW coat the outside too! It spreads thin and is hardly noticeable. For seam sealing I like it too, because of the way it can soak into fabric, thread, and thread holes and look better than Seam Grip. Seam sealing can also add to a packs durability by keeping seams from unraveling after they are damaged. When recoating old packs, don't worry about getting the old coating off. What can't easily be taken off will be reassimilated by the new coating. The dark spot to the right of the bottle in the photo is an abrasion that has been sealed with SEAM GRIP. The new 2016/17 container is shown in right hand photo.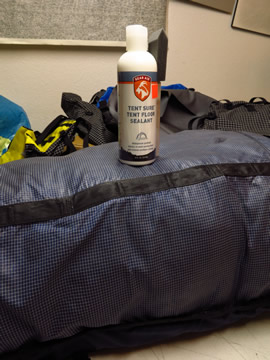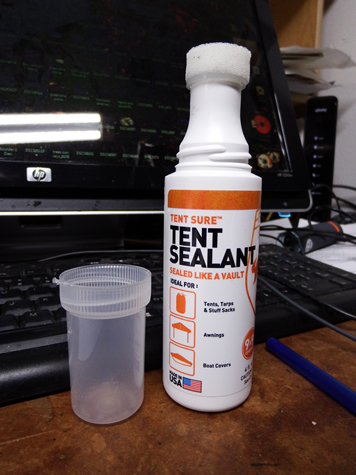 The new Tent-Sure container doen't seem like a squeeze tube but it is. Below: here zipper tape on a top pocket is being saturated. Don't worry - it won't glue the zipper closed like SEAM-GRIP would and application is fast.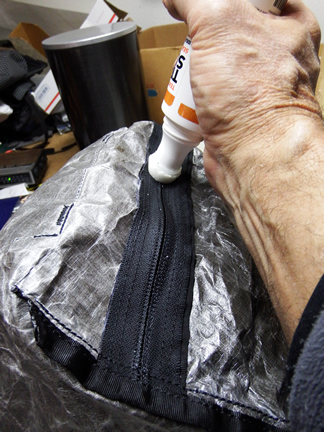 6 ) Corrosive damage to internal frames - mostly at the lower end due to salt buildup and then storing in damp places. The combination can be serious. Washing a backpack, even with just plain water and left to drip dry at the end of summer can do wonders for the lifespan of frame metal. We have seen frames so abused and stored so poorly the frames could not be removed from the pack. This is rare but it does happen. Our new adjustable Sarc frames incourage routine examination at least. If a Sarc is not used in winter it may not be a bad idea to remove the frame. Frame corrosion is also abrasive for the tubes the frames are in so rinse often if you are a hard user and avoid embarrassing repairs later.
If it is a Critical Mass pack with bolt in frame, either wash the pack with the frame attached or reinsert the frame before the pack starts to dry because even synthetic fabrics will shrink and it can be impossible without extra stretching tools to get the bolts back into the frame ends. Learn what your pack is about and take care of it like you would anything else. Corrosion damage is not covered by warranty - we consider it as abuse. Generally, when this happens, it means a pack has NEVER been washed and THEN has been poorly cared for. It is rare that we have to fix these, but we do, and it is generally disgusting.
All of these things aside - McHale packs do not fall apart - no damage there!!!
Climbing in general is pretty tough on packs and people. I know there are disclaimers everywhere about climbing being dangerous. Be careful and chose your climbs wisely. It is not just dangerous - it is sadly dangerous when you are connected in some way to the people that get hurt. I just received a pack from a climber in Oregon ( years ago now ) that was involved in a McKinley rockfall accident. He lived but his pack and a partner didn't. It had to be cut from his body and the sleeping bag compartment cut open to get his sleeping bag out for survival. See pack below: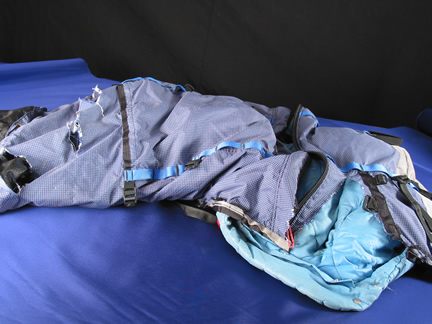 One of the shoulder pads was cut off the pack and the belt was cut in half during rescue. We are using what we can from the pack to build a new one ( which was not much ! ).
We are also the official repair station for Mike Schonhofen Custom Packs. Dan worked for Mike for a brief period in Seattle in 1979 and when Mike quit making packs in the late 80's he endorsed us as the place to get things fixed up.