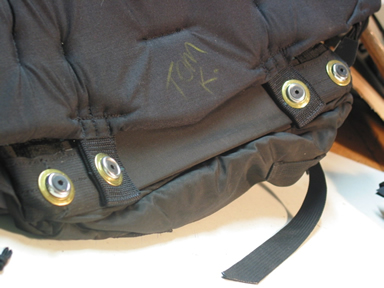 Buyer beware - try not to buy without a trial first. Afterall, that is how we sell new packs. Buying used anything is always a learning experience - be prepared to resell your used pack! People do not buy motorcycles or much of anything serious without getting on first. Don't buy it because it is a McHale Pack - Buy it because you like it.
The packs mostly commonly on the used market are the Critical Mass expedition packs from the 90s. These were called Alpineers. There was the Inex Alpineer ( Inex is short for internal-expedition ) and the Alpineer Standard mostly. The pack that have 4 bolts at the bottom of the pack are best are the only ones you should buy; 2 bolts hold the belt onto the crossbar and then there is a bolt in each outer corner of the pack outside of the belt bolts where the crossbar and vertical stays join. The packs are not 'Critical Mass' packs unless they have 4 bolts at the base. The packs with only 2 bolts at the bottom are older and may not have the 'Bayonet' or ' Bypass' features. The 4 bolt models with all of their improvements are a very good bargain and wonderful big load packs.
The photo below shows how to measure from the top edge of the hip-belt to the peak of the triangular nylon yoke ( hidden under velcro ) between the shoulder pads. This pack measures 17". That would work best for a spine that measures 18-19" using our measuring method Click. Make sure there is a little bit of shoulder pad wrap over the shoulders. Besides the pack being a 4 bolt model, this is the next most important thing to find out. The same procedure is followed for newer CM Packs. The main difference between the two is that the newer CMs are lighter and don't have features like the lower map/mitten pocket and have far less double layer fabric reinforcing. There is leeway in sizing and it is more important that the pack is not too long, rather than slightly too short. Shoulder pads only need to warp over the shoulders a tiny bit. Horizontal is OK but angling upward is a no no. The next most important thing is the hip-belt, and these can be easily changed. Also, many people buy and sell these packs without ever knowing what they are or how to use them - don't assume the person selling is the original owner. If you buy a pack get our instructional DVD.