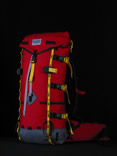 Bump 32 and Bump33 Twin Frame Stay Ultralight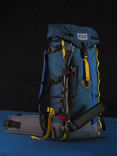 Base price with top pocket and water pockets: $795.00 - Challenge Fabric bottom and body side of shoulder pads included.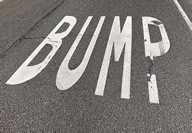 ........About the size of a small speed bump......but this one won't slow you down..........
Base price of $795.00 includes 2 water bottle pockets, Kangaroo Pocket, padded hip belt, top pocket, Challenge Fabric bottom and body side of shoulder pads included. Price includes demoing and custom fitting ( demo shipping not included with any pack) Add $$ for more exotic fabrics like Challenge Ultra and extra for color dyes. The red CUSTOM Bump 33 below has sewn internal divisions lining the face of the rear side for organizing shovel, handle, probe and etc. Internal divsions can also be mobile...... elongated pockets can just plug onto internal side seams.
With all the new fabrics hitting the market, add-on prices for UHMWPE is in flux. We tend to dye these fabrics and that adds dollars, but the prices are now much lower than during our 'Spectra laminated to Non-Woven Dyneema' days. Base price includes all regular fabrics and Spectra 'Grid' fabrics.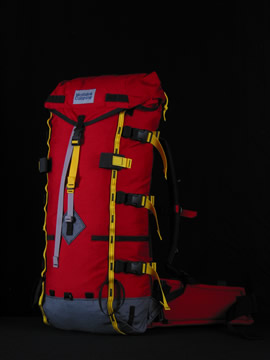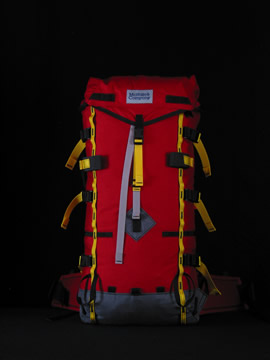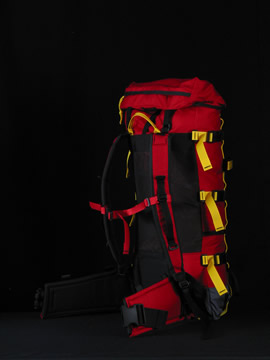 As shown, the Bump 33 is about 2,000 cuin with a 300 cuin lid. The pack can still expand easily another 500 cuin with the roll top. The standard makeup has 13" of bag above the frame but can be a custom length - 16" is common for these. Bumps can be made in top/load panel/load form or with Kangaroo Pocket. Price includes the Kangaroo pocket
_________________________________________________________________________________
Below: A Bump 33 with the new 'Tiny' size 2 layer summit flap/lid. Still have to weigh it.................hint, hint......OK, I'll go weigh it.....
(The strap configuration of the pack has been customized)
In roll top mode without the lid/brain, and without the large belt pouches it weighs 3 lbs, 2.8 oz. It's an inch or two over a standard medium size, and the hipbelt is an Xlg, so considering that, it would be down in the 2 lb range somewhere for a medium size. When you consider that it's 400 Challenge fabric, with an 800 bottom, it could certainly be even lighter. It can also do water bag closure, so getting rid of the side lid straps can knock off an ounce or two. And, those big water pockets come off. These are made of 400 Challenge with 800 bottoms!
With the bottle/utility pockets removed, a regular size hipbelt attached, and the side lid straps removed and replaced with water bag closure buckles, the pack weighs 2 lbs, 10.8 oz. This is with a 7075-T6 twin stay frame, quality Evazote padding, and tough long lasting Lenomesh against the back.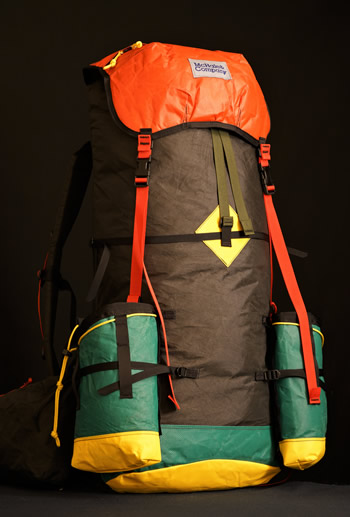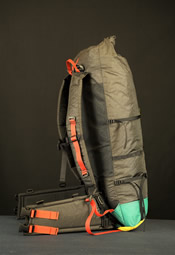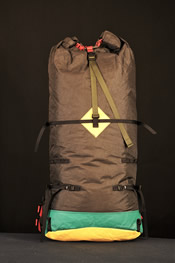 ---------------------------------------------------------------------------------------------------------
Back in the 80s McHale Packs made a pack called the Speed Bump - it was about the size and shape of a large speed bump. That was back in the days of the McHale Light Speed pack as well. McHale Packs actually made 1.5 lb twin stay packs as far back as the 80s but they were designed more as 'Summit Packs' designed to be carried inside larger packs on approach. In the 90s people started UL backpacking with them.