LBP 38 - 3,200 cubic inches ( page under construction )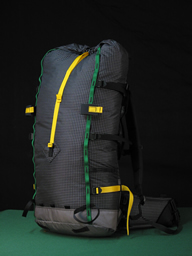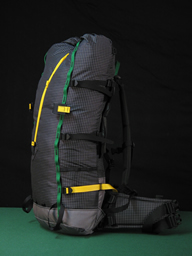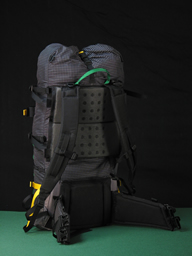 $895.00 / $795.00 without P&G frame extensions. Base price includes a large rear Kangaroo Pocket, 2 large removable water bottle pockets, top pocket hip-pack (brain), single and double roll-top systems, Full Spectra bottom and lower sides, and twin lower adjustable stays of 7075-T6 aluminum.
With all the new fabrics hitting the market, add-on prices for UHMWPE is in flux. We tend to dye these fabrics and that adds dollars, but the prices are now much lower than during our 'Spectra laminated to DCF' days. DCF is 'CubenFiber' or Non-Woven Dyneema. Base price includes all regular fabrics and Spectra 'Grid' fabrics.
Top Load / Panel Loader style LBPs; Add $95.00 to base price for zipper.
Below: A dyed (treated) white Full Spectra LBP 38 .