MERKEBEINER (Merke) Daypack or......UL Overnight - $795.00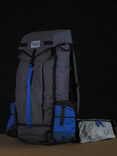 The primary feature that sets these packs apart from the LBPs is the internal back pad rather than the external velcro-on backpad and a lack of main frame length adjustment that LBPs and larger Sarcs have, although the P&G bayonets are an option. Like LBPs, there is no limit to what the circumference can be up to 41". For smaller packs see the Bump 32 and 33. Price includes; removable MX compression strap system like LBPs, water bottle pockets, kangaroo pocket ( add $95.00 for panel zipper instead of kangaroo )(add $95.00 for the Bayonet system). Dual 1" or 1.5" or a combo of hipbelt buckles are standard. Unlike the LBP which can carry over-loaded with 50 lb. loads, these packs are softer, but can be fitted with stiffer frames, but are meant to be used in the 15- 25lb. range. It's all about performance in a small light pack. They will certainly hold 50 lbs. or more, however, without construction failure. Base price: $795.00. Challenge Fabrics can be added. Challenge Fabrics for the pack bottom and body side of the shoulder pads is included in price.
With all the new fabrics hitting the market, add-on prices for UHMWPE are in flux. We tend to dye these fabrics and that adds dollars, but the prices are now much lower than during our 'Spectra laminated to DCF' days. DCF is 'CubenFiber' or Non-Woven Dyneema. Base price includes all regular fabrics and Spectra 'Grid' fabrics. This Merke 36 below, although originally made as a Full Spectra pack, can be duplicated in Challenge Ultra UHMWPE fabrics.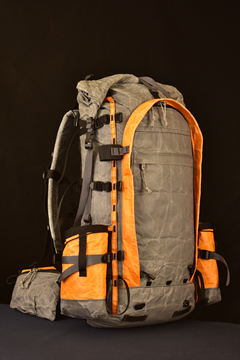 Below left: A Spectra grid pack. Two right hand photos; A DCH pack (Dyneema Compsite w/ A light protective polyester protective layer)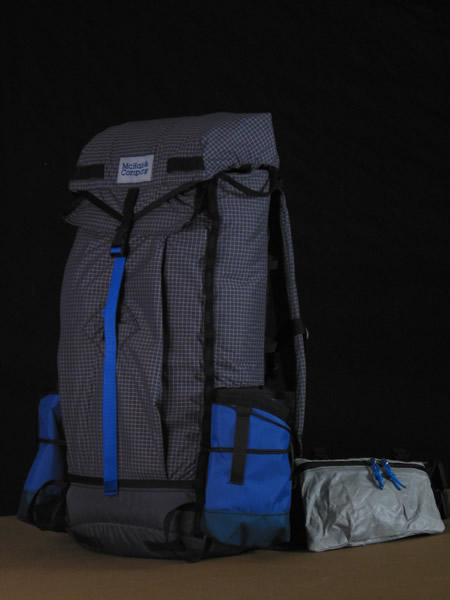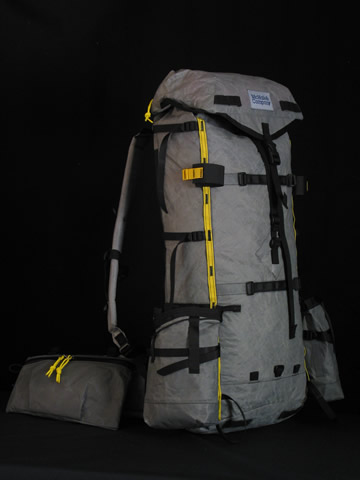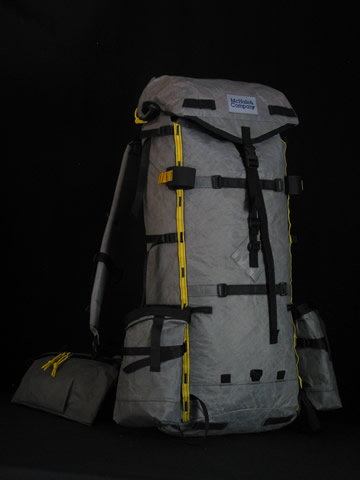 Far left photo below; World's smallest McHale Pack.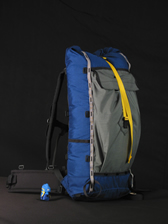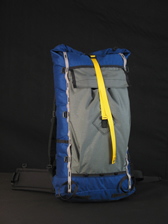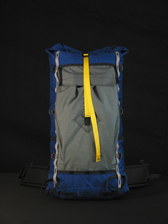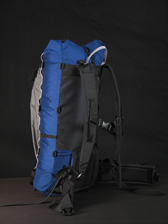 Below: A 34" top load / panel loading Merkebeiner.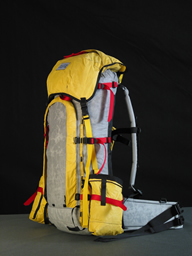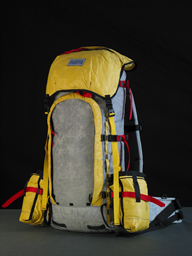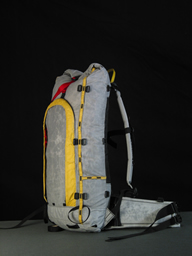 Harness side below: Presto shoulder pockets shown also.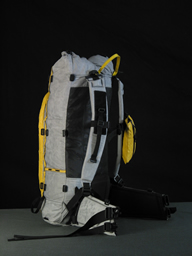 Below: A Merkebeiner made of small grid green Grid fabric (no longer available as small grid). Last photo shows pack with MX compression strap system plugged in. This sample has 2 one-inch belt buckles also. Hip-pack top pocket is included in $695.00 base price. Add for Challenger Ultra Kangaroo and bottom. Click photos.